"A lightschool is a local society with a school in authentic living and learning as a central station. This school collaborates with families and local companies. Combining arts, science, business and spirituality the lightschool explores how they relate to developments in the community, the city, the country or the world and how they can re-act to them together. There is room for everyone's talents, passions and ambitions to develop and flourish while co-creating positive and sustainable changes. "
We take the development of the student as a starting point and build an entire education & innovation ecosystem around it. Students practice leadership, guided by teachers who are leaders, until they feel powerful enough to lead and guide themselves.
Learning by Living
Learning happens everywhere and from everyone in the local society. We do not only learn about our world and cultures in a school building. We learn by taking part in the world. We experience what it means to be part of a community and the natural world. Students are regarded as young entrepreneurs, taking ownership of their life-learning journey. They go to different places to learn about themselves, about craftsmanship and about life. We learn from life, in every moment, as it presents itself.
Expanding world as a student
With age and development, the world of students grows from the family environment, to the community, to the city and finally the wider world. Older students expand their world through internships, volunteering and projects outside of their living environment. They gain experience with different sectors and company sizes, learning what fits them while contributing to the company and sustainable products.
Leading the community as a teacher
Teachers are the authentic servant leaders of the community, guiding students and group processes at all times. They lead by example, coaching others on their own path. Teachers use their talents to create engaging learning experiences and respond to situations that arise spontaneously. They see what is needed in a situation and adjust their role accordingly. Teachers ensure that processes and products are just and effective. They are entrepreneurs, coordinators and educational designers. Teachers are supported at all times by their right-hand men of women called 'connectors'. Connectors build valuable collaborations in and for the community.
Transdisciplinary sustainability projects
Together with local companies & entrepreneurs, artists & designers, technologists & scientists and authorities students co-create positive and sustainable change. With the sustainable development goals as Lightschools' curriculum , they work on projects guided by teachers. This collaboration allows all involved to: - Learn about themselves, others and the world. - Align different interests, talents and desires. - Soundly face the complex challenges of today. - Challenge and reinvent the way we do things.
EDUSCRUM
Everyone always handles their projects using eduScrum, no matter the size of the project. eduScrum is a process management tool with which we deliver value faster and more effectively, as long as there is an agile mindset. We continuously develop ourselves, our team and our product or service in a structured way.
SUSTAINABLE DEVELOPMENT GOALS One central station
The lightschool building is a meeting place not only for students and teachers, but for the whole community and all disciplines with which we collaborate. It is a place where students learn about maths, science, arts, literature and history as well as the social and universal knowledge of life, using the life-learning experiences at different places as starting points for exploration in the classroom. Besides this, the whole community acquires skills in self-knowledge, self-care and self-leadership here and collaborates with each other. It is a safe and protective place for practice, discussion and debate. The teacher strengthens the feeling of stability and security through its experience and knowledge.
Online Environment
We learn in different places. We use an online environment to give us insight into our progress at all times, to stimulate (student) development outside of the classroom and for collaborative purposes on different levels.
THIS ONLINE ENVIRONMENT INCLUDES
A portfolio space where
- All Lightschools participants gather their life-learning experiences and developed products and services
An online learning environment where
- Students can strengthen their foundation in maths, reading, writing, history and the sciences
- All Lightschools participants deepen and widen their knowledge and skills to adapt and thrive in an ever changing world
A collaboration platform where all involved gather on different levels and in various combinations to learn with and from each other.
- lightschools worldwide
- lightschool teachers worldwide
- connectors worldwide
- project participants locally or translocally
- student representatives worldwide
- authorities & international organizations worldwide
Learning & innovation ecosystem
"A lightschool is a local society: a learning and innovation ecosystem in which students, the community and relevant local disciplines learn and innovate together. The different lightschools all over the world are connected in a global network, shining their own light, innovating and learning from and with each other. A global ecosystem arises."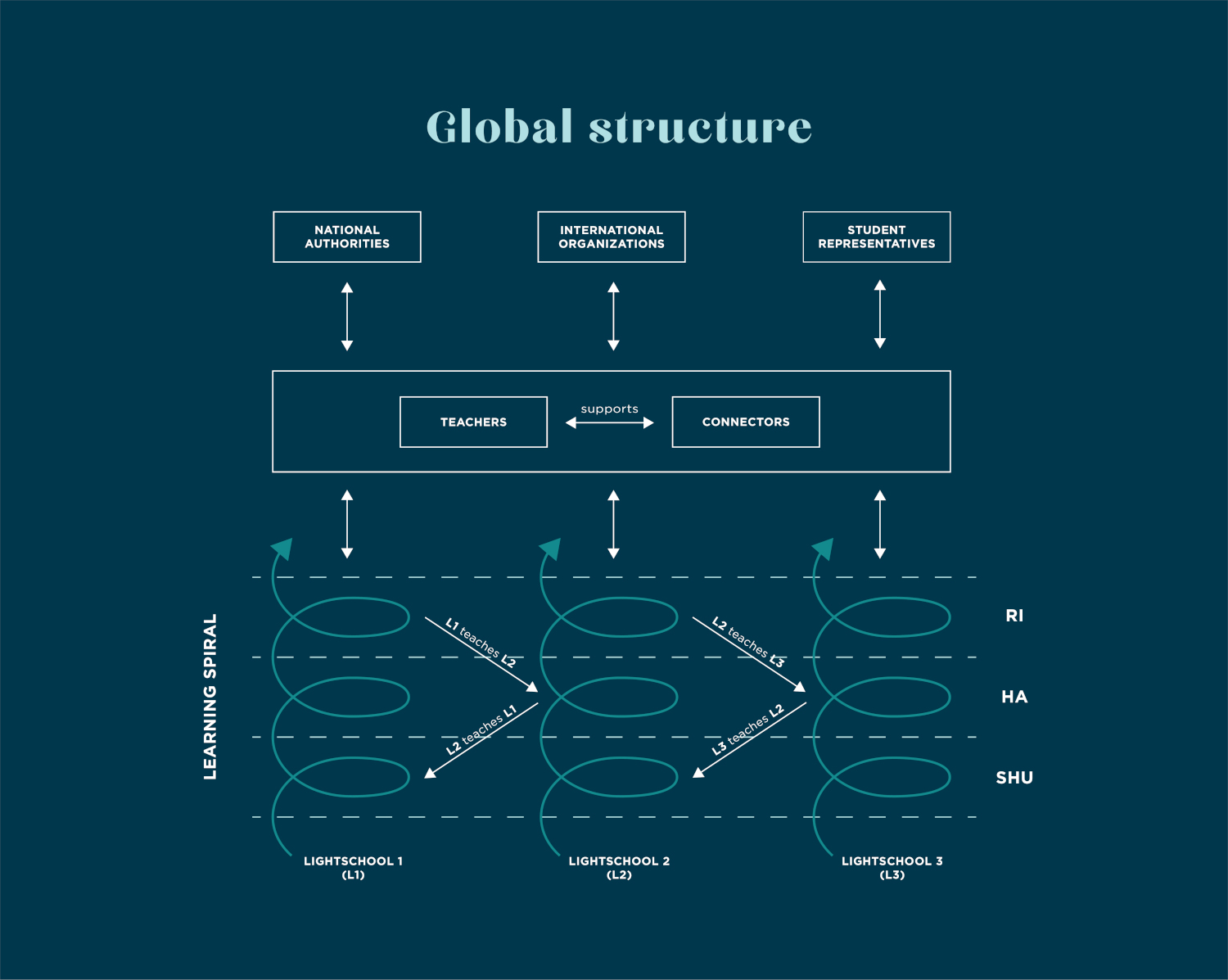 All lightschools work with the Lightschools Common Principles. Each principle is reinforced by the interconnection with other principles. Every lightschool has its own way of bringing the principles to life in their daily actions. They are noticeable everywhere.
In the coming period we will organize a series of webinars in which we will define the principles together with you. Go to events or our social media to find out more.
8
BALANCE & SUSTAINABILITY
9
DEMOCRACY & INCLUSIVENESS
11
COMPASSIONATE CONNECTION & CREATIVE COLLABORATION
13
COMMITMENT TO THE ENTIRE ECOSYSTEM
We empower local lightschool initiatives.
Lightschools offers people the space, support and connection to stand in their power. Lightschools participants have the freedom to develop value from their perspectives, while respecting Lightschools' borders. Lightschools' aim is to build a new education & innovation ecosystem together.
What we do

We recruit and train lightschool teachers & connectors
We facilitate learning & collaboration within & between lightschools worldwide with an online platform & events
We support local & global development processes
We create agile accountability measures
We provide scientific validation
We create a network of partners that serves the global ecosystem and the local lightschools with their knowledge, experience and resources